POLLUTION MAPPING
CITIZEN SCIENCE PROJECT
The goal of the Pollution Mapping Citizen Science Project is to identify pollution sinks and hotspots by assessing the accumulation of nutrients and toxins in sediment and water samples throughout the Indian River Lagoon.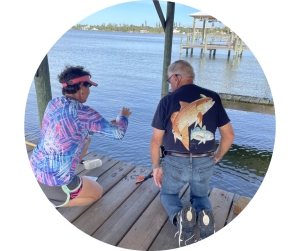 Utilizing further analyses and our new integrative samplers, we then aim to track the source of pollutants to stop further eutrophication.
Engaging citizen scientists in this project not only provides an opportunity for participants to better understand the problems facing the lagoon but also allows us to accumulate a large data set that continues to increase both spatially and temporally. With the expansion of this project across four counties and 28 sampling sites, we are increasing our chances of recording and understanding unusual occurrences and pinpointing the sources of pollution- with the ultimate goal of restoring and preserving the health of the Indian River Lagoon.
Pollution Mapping Citizen Scientists will be trained to perform the same monitoring methods used by ORCA Scientists, and will "adopt" a site within the Indian River Lagoon, or in any water body that influences the health of the lagoon, to test seasonally. Teams of Citizen Scientists will work in the field and laboratory to collect and analyze samples. Commitment can range from simple water quality monitoring to performing the complete array of analyses completed by ORCA scientists for our Ecotoxicity projects.