"Our focus is on reversing the trend of oceanic and near-shore marine ecosystem degradation using the scientific integrity of a research institute."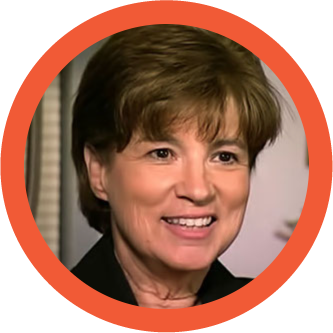 In 2005, following a 16-year career as senior scientist at Harbor Branch Oceanographic Institute, internationally renowned, deep-sea explorer Dr. Edith Widder founded the Ocean Research & Conservation Association (ORCA), a scientific based conservation nonprofit.
Dr. Widder established ORCA to lead the effort of translating complex scientific issues into technological solutions, and to foster greater understanding of ocean life as a means to better, more informed stewardship. "Our focus is on reversing the trend of oceanic and near-shore marine ecosystem degradation using the scientific integrity of a research institute," said Dr. Widder.
In 2004 and 2003 respectively, the U.S. Commission on Ocean Policy and the Pew Oceans Commission (www.pewoceans.org) released independent reports detailing the significant threats the oceans face. "Those reports were a real wake-up call," said Dr. Widder.
"To avert a crisis, we need to educate people on how they can be part of the solution."
Dr. Widder is uniquely suited to apply scientific methods to furthering marine conservation efforts.
Graduating Magna cum laude from Tufts University where she received her BS Degree in Biology, Dr. Widder went on to earn a Masters Degree in Biochemistry and a PhD in Neurobiology awarded by the University of California in Santa Barbara. She became certified as a Scientific Research Pilot for Atmospheric Diving Systems and holds certifications that qualify her to dive the deep diving suit WASP, as well as the single-person untethered submersibles DEEP ROVER and DEEP WORKER. She has made over 250 dives in the JOHNSON-SEA-LINK submersibles. Her research involving submersibles has been featured in BBC, PBS, Discovery Channel and National Geographic television productions.
A specialist in bioluminescence (the light chemically produced by many ocean organisms), Dr. Widder has been a leader in helping to design and invent new submersible instrumentation, and equipment to enable unobtrusive deep-sea observations. Working with engineers, she has conceived of and built several unique devices that enable humans to see beneath the waves in new ways, including HIDEX, a bathyphotometer which is the U.S. Navy standard for measuring bioluminescence in the ocean; important information for keeping submarines hidden from above. Dr. Widder also built LoLAR, an ultrasensitive deep-sea light meter that measures light in the deep ocean, both dim down-welling sunlight and bioluminescence – both important determinants of animal distribution patterns.
Dr. Widder also created a remotely operated deep-sea camera system, known as ORCA's Eye-in-the-Sea (EITS).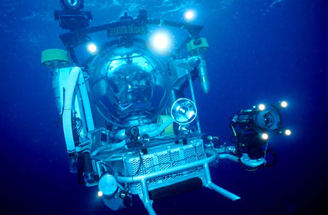 When deployed on the sea floor, automatically detects and measures the bioluminescence of nearby organisms. EITS has produced footage of rare sharks, jellyfish, and discovered a new species of large squid (over six feet in length), all in their natural habitats. Dr. Widder and her unobtrusive camera system were featured on the Discovery Channel series Midwater Mysteries and PBS's NOVA ScienceNOW.
In September of 2006, based on her work with ORCA, Edie was awarded a prestigious MacArthur Fellowship from the John D. and Catherine T. MacArthur Foundation. In 2010 Dr. Widder was invited to participate in the prestigious Ted Mission Blue Voyage to the Galapagos Islands along with other leading thinkers and advocates of ocean conservation including Sylvia Earle, Barbara Block, Jean-Michel Cousteau, Mike deGruy, Callum Roberts and Enric Sala to name a few. Dr. Widder's TED presentation, recorded from the deck of the ship Endeavour.
In the summer of 2012 Dr. Widder, along with several other scientists, filmed the giant squid in its natural habitat for the first time ever. The historic footage aired on Curiosity on the Discovery Channel in January of 2013. Her innovative work earned her the 2018 Explorers Club Citation of Merit; she became one of just six women to earn this honor.
In 2021,  Edie released her memoir Below the Edge of Darkness: A Memoir of Exploring Light and Life in the Deep Sea.
With support from the National Science Foundation, the Office of Naval Research, private foundations and conservation-minded individuals throughout the country, ORCA is using the latest technologies to develop high tech sensors and communication systems capable of detecting a wide range of water quality parameters, both chemical and biological, critical to keeping our waters clean and habitats healthy. These systems report back to ORCA's scientists and resource managers, so better solutions can be implemented against threats to healthy marine ecosystems.