ONE HEALTH - FISH MONITORING
CITIZEN SCIENCE PROJECT
ORCA's One Health program is focused on studying the transfer of toxins from the Indian River Lagoon to humans and animals.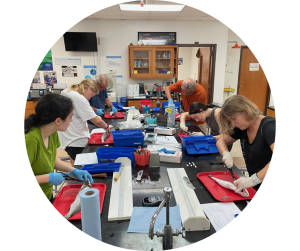 Our One Health: Fish Monitoring project is designed to collect data related to the accumulation of toxins (naturally occurring) and toxicants (manmade) in fish living in the Indian River Lagoon and contributing waters (e.g. Lake Okeechobee, canals).
Engaging Citizen Scientists in this project allows us to create a large data set that is continually growing –  both spatially and temporally.  The data collected in this project provides evidence of the degree to which specific pollutants are accumulating in the aquatic food chain – which then may be transferred to humans and other animals that eat fish.  It will also provide evidence to support our efforts to localize sources of specific pollutants.
Citizen Scientists can participate in this project by collecting fish. They can also participate in the collection, processing and analysis of tissue samples from the fish.
If you have fish to donate to this project, here are a few important things to remember:
Keep fish whole and on ice (or keep frozen)
Make sure it is legal and in season
Label with date, time caught, and location (GPS or if you don't want to give away your favorite fishing spot, click here to view our county sector maps)
Fish should be from Indian River Lagoon and connecting waterways.
We are targeting the following species of fish from the Indian River Lagoon and connecting waters:
Spotted seatrout, black drum, mangrove snapper, sheepshead, mackerel, bluefish, mullet, flounder, pompano, hardhead catfish, whiting, snook, red drum, spotted seatrout, spanish mackerel, armored catfish, mayan cichlid, tilapia, crappie, and channel catfish.
ORCA's Center for Citizen Science: 2515 Airport North Dr, Bldg B, Vero Beach 
*Please call first to arrange drop off 772-770-6702
Snook Nook Bait & Tackle: 3595 NE Indian River Dr, Jensen Beach
The Fishing Center: 600 US-1, Fort Pierce
DeBrooks Fishing Corner: 107 Fishermans Wharf, Fort Pierce
Professional Outfitters: 1204 US-1, Vero Beach
Wabasso Bait & Tackle Shack: 8456 US-1, Vero Beach
Rigg's Outpost: 990 E Melbourne Ave, Melbourne
Man Overboard Bait & Tackle: 1825 S Patrick Dr, Indian Harbour Beach
Doc's Bait House: 588 W Merritt Island Causeway, Merritt Island
Marine Discovery Center: 520 Barracuda Boulevard, New Smyrna Beach 
E-mail us at fish@teamorca.org with any questions regarding this project.
Do you fish in or consume fish from the Indian River Lagoon?  If so, then we need your help. Please take a few minutes to fill out our online survey for ORCA's One Health Fish Monitoring Project's investigation of the interface between human, animal, and environmental health.
Current analyses in this project include: heavy metals (mercury, lead, cadmium), cyanotoxins (microcystin and saxitoxin), microplastics, per- and polyfluoroalkyl substances (PFAS). Additional analyses coming soon include: pharmaceuticals, controlled substances, and parasites.  Click here to watch our latest presentation on the findings from this project, or explore the data here.