A DAY IN THE LIFE
OF THE INDIAN RIVER LAGOON
A Day in the Life of the Indian River Lagoon (ADIL) is a community-based, experiential research program designed to have students, teachers, community volunteers and environmental experts collaborate in the collection of water quality data and biological inventories along the Indian River Lagoon.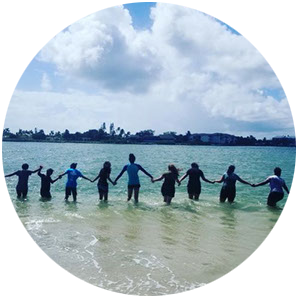 This project is designed to help students (grades 4-12)  and community members develop an appreciation for, and knowledge of, the Lagoon and the current health issues and stressors facing this estuary.
Each year thousands of teachers, environmental experts, students and community volunteers collect scientific data at various sites along the 156-mile stretch of the Lagoon – all on the same day in October. Volunteer citizen scientists use hands-on field techniques to measure chemical, physical, and biological parameters to determine how their local piece of the estuary fits into the larger ecosystem. Data such as, temperature, salinity, dissolved oxygen, pH, and nitrate and phosphate concentrations from all sampling locations are posted on the ADIL website. These data are available to the general public, including Indian River Lagoon decision makers. Teachers are encouraged to integrate ADIL data into school curriculum, science fair projects, and research projects throughout the school year. The results will help students and community volunteers build a better understanding of their local ecosystem's ecological health and the relationship their site has to the entire watershed; essentially creating an environmental report card of the lagoon.
All schools and scientific organizations along the IRL are encouraged to participate in this hands-on educational opportunity and community collaboration.
6th Annual A DAY IN THE LIFE OF THE INDIAN RIVER LAGOON will take place on October 5, 2023
If you have questions about this project or are interested in getting involved, please contact Missy Weiss at: mweiss@teamorca.org.
Watch this webinar to learn more! ADIL Webinar
Atlantic High School
Brevard County Homeschoolers
Brevard County Rotary Park in Merritt Island
Barrier Island Sanctuary
BrainLab Tutoring
Brevard County
Brevard County Stormwater
Brevard County Natural Resources
Brevard County Parks & Recreation: Riverwalk Nature Center
Brevard Zoo
Bridges Montessori
Central Middle School
City of Cocoa Beach
Cocoa Beach High School
Ecological Associates Inc.
Edgewood Junior-Senior High School
Environmental Learning Center
Florida Institute of Technology
Florida Department of Environmental Protection
Florida Fish & Wildlife Conservation US Fish & Wildlife Service
FWC & Martin County's Ecosystem Restoration & Management Section
Gifford Middle School
Heritage High School
Hobe Sound Nature Center
Indian River County Stormwater Division
Jensen Beach High School Earth Savers
Innovation Montessori High School
John Carroll High School
Manatee Observation and Education Center
Marine Science Center Volusia County
Martin County High School
Marine Discovery Center
Marine Oceanographic Academy at Forest Grove Middle School
Modern Minds
Marine Resources Council
Ocean Breeze Elementary
The Pine School
Martin County Public Works Department
Redeemer of Stuart
River Center, Loxahatchee River District
Rockledge High School
Sebastian Charter Junior High
Sebastian River High School
Smithsonian Marine Station Southern
St. Lucie West Centennial HS
St. Marks Academy
St. Andrew's Episcopal Academy
St. John's River Water Management District
Stella Maris Environmental Research
Storm Grove Middle School
Sun Grove Montessori School
Sunlight Christian Academy
The Nature Conservancy at Blowing Rocks Preserve
UF/IFAS Extension St. Lucie County 4-H Program
Vero Beach Elementary
Vero Beach High School
Palm Beach Homeschoolers
PROJECT FUNDERS:
The 5th Annual A Day in the Life of the Indian River Lagoon is funded by: Quail Valley Charities, Inc., ScottsMiracle-Gro Foundation and the W.A.I.T.T. (We Are In This Together) Fund at The Community Foundation Martin – St Lucie.