LAND TO SEA
CITIZEN SCIENCE PROJECT
ORCA's Land to Sea Citizen Science Project includes living shoreline and buffered shoreline projects that restore and stabilize shorelines, minimize pollutants, provide habitat for plants and animals, and help improve water quality.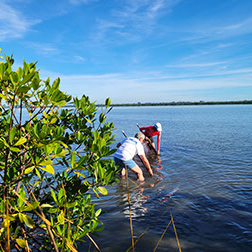 Living shorelines are restoration projects that usually include the construction of a hard structure or breakwater made from rock or bagged shell and the planting of native vegetation along intertidal shorelines.  Shoreline restoration provides several benefits including nutrient recycling, carbon sequestration, increased biodiversity, and protection from storm damage and erosion.
ORCA citizen scientists assist in the construction and monitoring of ORCA's living shorelines to better understand the benefits these habitat restoration projects provide.
Buffered shorelines help minimize the amount of pollution entering the waterways.  Planting native vegetation buffers along a seawall or shoreline filters out much of the sediment, nutrients, and other pollutants that are washed off from land during a rain storm or with irrigation water. By including berms and swales parallel to the shoreline, we can further slow the flow of water from lawns into these areas, and thereby reduce the pollution entering the lagoon.
Through this project, ORCA staff and citizen scientists recruit waterfront property owners to add buffers to their shoreline. We partner with University of Florida horticulture extension agents and local native plant nurseries to design and install the buffered shorelines, and citizen scientists monitor runoff before and after the installations to document the reduction in pollution entering the waterways.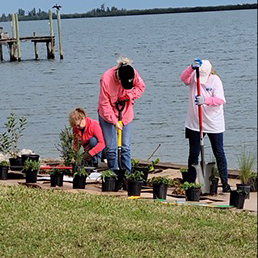 SQ FT SHORELINE TRANSFORMED
There are many ways we can all be good stewards of our environment, but waterfront property owners have the ability to make a greater impact by reducing the amount of nutrients entering our aquatic ecosystem. We encourage homeowners to undertake their own shoreline transformations and we offer resources and guidance through the steps required to design, install, and maintain a buffered shoreline. Reach out to our team at vcancio@teamorca.org for more information.