Creating the scientists of the future.
All of the scientists at ORCA had a transformational education experience when they were younger – a mentor or an opportunity that sparked their passion for science and exploration and changed the course of their lives.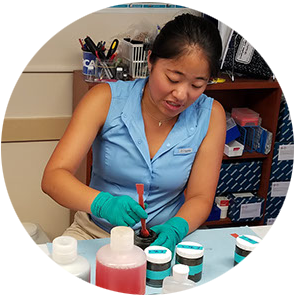 RCA is committed to offering that type of experience to students today, to help create the scientists of the future.
According to an Allstate/Heartland Monitor Poll, 78% of adults believe that it's harder for young people to get started today than it was in previous generations. We agree, and it worries us. We strongly believe that it is going to take these young, passionate, innovative professionals to reverse the degradation that has occurred – and continues to occur – in the Indian River Lagoon, as well as in estuaries and oceans throughout the world.
At ORCA, we are committed to mentoring these young professionals.  We offer young environmental scientists a unique internship experience. ORCA's culture and mission provides young staff members a wide range of field and laboratory experiences not common in most internships. It also allows the development of some of the most important skills needed for a successful career in the 21st century – things like problem solving, logistics, project management, and interdisciplinary thinking. An internship at ORCA also means the opportunity to meet and network with professionals and leaders in the many different environmental disciplines – scientists, engineers, policy makers, advocates, politicians, educators.
The Research Intern position is a 3 month-long internship designed for degree-seeking or graduate students who are interested in gaining more experience in their related science field (marine science, microbiology, marine biology, environmental science, habitat restoration, and conservation) through an internship with the Ocean Research & Conservation Association (ORCA).  Interns will assist with ongoing research projects, including laboratory and field work, with particular attention and emphasis on the One Health Fish Monitoring Citizen Science project.  Interns will gain valuable hands-on experience as they are fully immersed in ORCA's research and citizen science programs.  If necessary, we can structure the internship position to meet specific university requirements for credit. This is a paid internship which requires a commitment of 40 hours per week for at least 12 weeks in the summer. The goal of the internship is to gain experience in collaboration, literature review, data collection and analyses, and dissemination of results while working as part of a productive research team.
Please note: ORCA is unable to offer housing as part of our internship.
 If you are interested in applying, please send your CV and why you are interested in working with our team to mweiss@teamorca.org.
"I cannot speak enough to the value of my experience as an intern with ORCA. The uniquely interdisciplinary approach that ORCA takes to science makes its research engaging and relevant to a wide range of interests, allowing interns to tailor their experience around the areas they care about most. For a student with little or no professional background, a supportive and encouraging work environment makes a huge difference in one's ability to learn, work hard, think critically, and improve. The team at ORCA has gone above and beyond in this way, providing support and advice to me long after the end of my internship. Having high expectations, as well as a great amount of respect and faith in their interns made my experience with them challenging and never dull. I felt I was exposed to all sides of their work-- from field research and lab work, to engagement with policy. Their research and the mentality they have while doing it is inspiring to me, and I left far more determined and better equipped to help the environment than I had been coming in."
"I joined ORCA for the summer of 2017 with the help of the Environmental Fellow Program at the University of Michigan and the Schmidt Family Foundation. During my time here I've had the opportunity to do field work, assist with and conduct my own laboratory research, and attend public policy meetings with county commissioners and congressmen. I can think of few other entry-level positions that would afford me the same range of experiences in such a short period of time. At ORCA I can put my Masters in Marine Biology degree to good use, by seeking solutions for environmental problems affecting Florida citizens right now, such as the toxic algae blooms plaguing the St. Lucie River and Indian River Lagoon. Given the opportunity, I would be thrilled to continue my work at ORCA, and I hope that this chance can be offered to other young scientists."
"ORCA has been an amazing experience, especially since this summer has been an extension from volunteering last summer. I learned more about my hometown's waterways, and worked on developing monitoring mechanisms for these waterways. I experienced field work for the first time, and taught middle-school and high-school aged students on sediment collection and nutrient analysis. Education has always been a joy of mine, so teaching students about chemistry was a great experience. Thank you ORCA for providing me with the opportunity to apply and continue my chemistry education in a welcoming and dynamic lab!"
"After hearing about ORCA's One Health projects during a lecture at Berry College, I remember turning to my friend and saying 'that's exactly what I want to do!' After interning here for three months, that feeling hasn't changed. Working with ORCA has confirmed and even ignited my desire to seek positive change for people and the environment through real and applicable scientific research. It's hard not to be inspired when working with such a highly motivated group of people-research staff and other! Each of whom have encouraged me and taught me everything from practical laboratory skills to skills I can take beyond the lab into my professional life. Even as I move on to the next big thing, I know I will always have the ORCA family."