A Memoir of Exploring Light and Life in the Deep Sea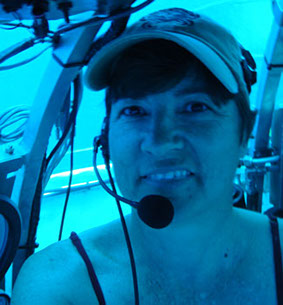 Edith Widder's childhood dream of becoming a marine biologist was almost derailed in college, when complications from a surgery gone wrong caused temporary blindness. A new reality of shifting shadows drew her fascination to the power of light—as well as the importance of optimism.
As her vision cleared, Widder found the intersection of her two passions in oceanic bioluminescence, a little-explored scientific field within Earth's last great unknown frontier: the deep ocean. With little promise of funding or employment, she leaped at the first opportunity to train as a submersible pilot and dove into the darkness.
Below the Edge of Darkness takes readers deep into our planet's oceans as Widder pursues her questions about one of the most important and widely used forms of communication in nature. In the process, she reveals hidden worlds and a dazzling menagerie of behaviors and animals, from microbes to leviathans, many never before seen or, like the legendary giant squid, never before filmed in their deep-sea lairs. Alongside Widder, we experience life-and-death equipment malfunctions and witness breakthroughs in technology and understanding, all set against a growing awareness of the deteriorating health of our largest and least understood ecosystem.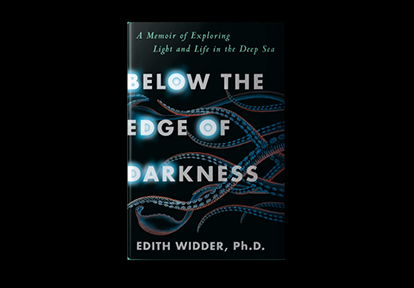 There have been previous such expeditions – all failures. This time was different. There were many factors that came together to make this effort such a resounding success. One of these was a new approach to deep ocean exploration that pays heed to the natural visual environment of the vast midwater realm that is home to these leviathans. This is a world of the very dimmest of lights – both sunlight filtered through hundreds of meters of ocean and – bioluminescence – the living light that animals use to aid their survival in a light-limited world. The enormous eye of the giant squid – the largest in the animal kingdom – attests to how important vision must be to its survival. The teams' use of optical lures that imitate bioluminescence to attract the squid and far red light invisible to the squid in order to see without being seen proved to be the key to success.
Edith Widder's story is one of hardscrabble optimism, two-fisted exploration, and groundbreaking research. She's done things I dream of doing. I'd have wrapped my submersible, the Deepsea Challenger, in bacon if it would have lured the elusive giant squid from the depths. In Below the Edge of Darkness, Widder tells you how she did it."
"My experience of exploring the deep ocean and its alien life with Edie Widder was fabulous. She enthralls us with many such stories in her book. I recommend it."
"To shed light on a subject is what any scientific book should do. To go into it in depth without losing the reader is a harder task. Edith Widder's subject is light itself—the manufacture of light by strange and eerie denizens of the deep sea—and her scintillating style is worthy of the topic. This is a book to delight the general reader while simultaneously informing the professional: a book of marvels, marvelously written."
"Personal and page-turning, adventurous and awe-inspiring, Below the Edge of Darkness sparkles with the thrill of exploration and glows with an urgent plea for the future of our precious seas. Comparisons to Jacques Cousteau spring to mind as Edith Widder shares the profound journey of her life—one as unique and important as the unexplored realms of our very own planet."
"'Luminous'—the topic, the heroic journey, and the author herself. Dive in with Edith Widder, trailblazing scientist and explorer, as she reveals the galaxy of light and life in the universe below the surface of the sea, out-shining skeptical male colleagues with dignity, grace and a robust sense of humor."